A powerful, affordable BI tool supporting integrated analysis & budgeting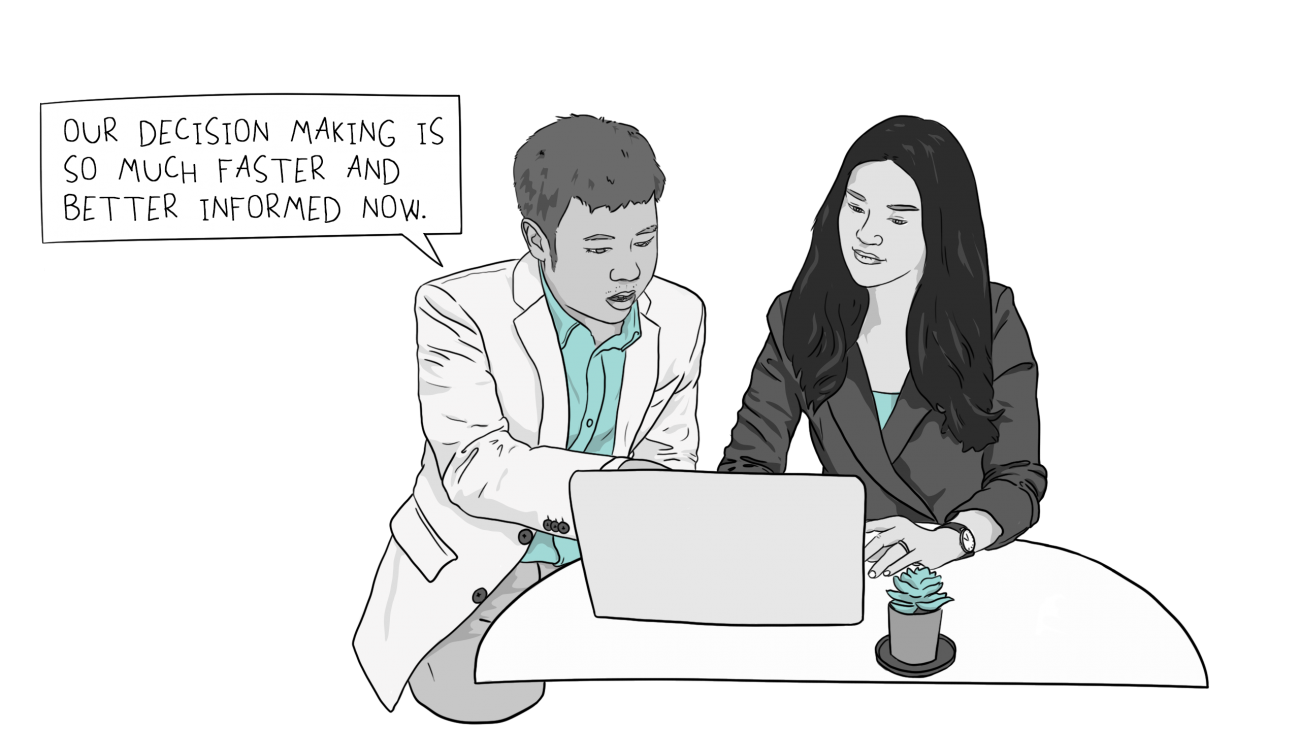 "My client loves Info-Explorer. In their words, it has them purring like a kitten."
MARK BINKLEY, DATAQUEST INC., INDIANA, USA
Info-Explorer Features
Available features vary based on Info-Explorer Edition. See the edition guide below, and edition-specific pages, for details.
Data Sources & Processing
Fed from your SQL & ODBC database, with background in-memory processing
Include data from multiple compatible databases, e.g. ERP and CRM
Incorporate user-defined calculations
Work online or offline
Export views to Microsoft Excel®, CSV or HTML
Security options to protect your data
Slice & Dice Analysis
Change dimensions (e.g. product, customer, region, period, employee) for clearer insight
Dynamically control your view, filter your data, add and remove facts and dimensions
Drill through to compatible source systems for more information
Roll up and consolidate to focus on high-level results
Presentation & Personalization
Create and save multiple views, and convert to charts
Create your own dashboards, highlighting exceptions and trends
Apply your own formatting styles, e.g. 'traffic light' reporting
Personalize, e.g. use custom styles to highlight amended data
Budgeting Features
The Writeback edition lets you use the same interface for analysis and budgeting:
Budget beyond General Ledger level
Build budgets bottom-up or top-down
Insert a budget total and let Info-Explorer populate the build-up
Adjust budgets using multiple spread methods
Maintain multiple budget versions
Write budget data back to your compatible database
Combine actual and budget data for forecasting
Sample Cubes included
Use them to simplify getting started, or as a base for creating your own cubes. Sample Cubes are available for:
Spire - selected modules: AR, AP, GL, OE and PO
Sage 300:
Selected core modules
US & Canadian Payroll
Orchid Extender, RMA, Bin Tracking
Budgeting
Other selected 3rd Party products
Use Case Examples
Analyze sales by customer, salesperson or item
Compare sales for a given period with budget, then pull in specific regions, employees or products to better understand the data
Calculate commissions - (see our Protect-A-Bed case study)
Budget by project code
Insert a budget total and let Info-Explorer populate the build-up
Compare sales for a customer to their cases in CRM
Info-Explorer Edition Guide
Use the free Lite edition to analyze data using pre-defined cubes. Upgrade to the Standard or Writeback editions to unlock additional features.